Convex Base: LKW Kabine stabilisieren (Video)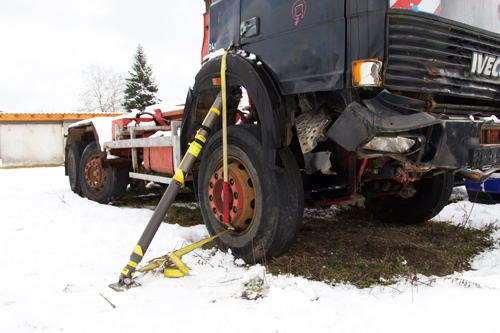 Zur neuen Convex Base wird ein leicht modifizierter Spanngurt mit zweitem Haken benötigt (siehe hier). Mit diesem Spanngurt können nun LKW Kabinen sehr gut stabilisiert werden. Wie das funktioniert, ist im nachfolgenden Video zu sehen:
The new convex base works best when used with a slightly modified ratchet belt with two hooks (see here). It is now possible to use this ratchet belt to stabilise truck cabins, as shown in this video:
Dies ist vor Allem eine Alternative zu dieser Methode, wenn kein Platz zwischen Kabine und Aufbau vorhanden ist bzw wenn man schlecht an den Rahmen kommt.
It is a viable alternative to this method, when there is little room between cabin and build, or when the chassis is not accessible.
(Bilder auf Flickr // Images on Flickr)
comments