Paratech Convex Base: Video
Hier eine kurze Einführung in die Funktionsweise der Convex Base (auch genannt: Oschi bzw. Haifischkopf).
Der Kopf vereint drei Varianten in einem:
Die Spitze (bekannt aus Multibase) zum direkten Einsatz am zu stabilisierenden Objekt
Die nach außen gewölbte Seite (Convex) zum Anlehnen
Die Aufnahme für die Kette (zB für Basketing, wie hier mit der Multibase zu sehen)
Here's a video showing basic use of the new convex base. It actually is a combination of three applications:
the pointy bit, as known from the Multibase, for direct insertion
the convex bit used to lean against the load
the bit that will take a heavy duty chain (as used for basketing)
Der eingesetzte Spanngurt ist handelsüblich, plus eine extra Klaue, plus "Heat Shield" (das rote Ding) für Hitzeschutz bei Einsatz an heißen Teilen, zB Auspuff usw. Weiterhin ist er als Triple R zusammengewickelt und eingesetzt.
The used ratchet belt is supplemented by an extra hook as well as a heat shield for use against hot parts such as exhaust pipes etc. The ratchet belt is rolled up in the Triple R configuration.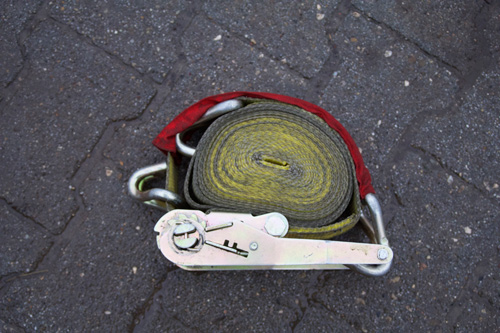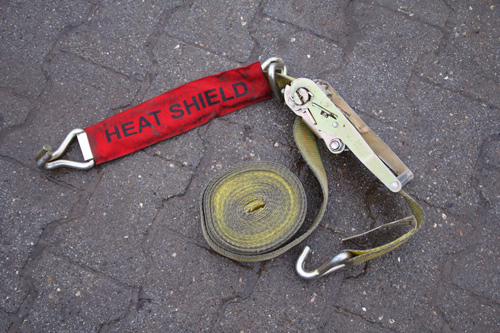 comments