Pilsting: LKW seitlich auf PKW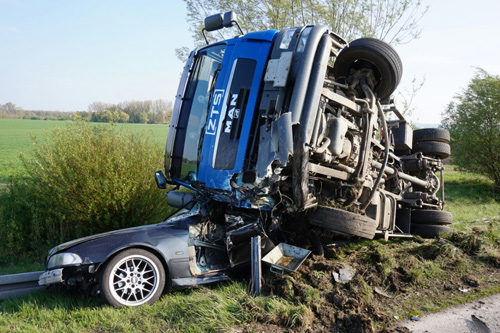 Dankenswerterweise von der FF Pilsting (BY) zur Verfügung gestellt: LKW seitlich auf PKW. Hier mit glimpflichen Ausgang, die Insassen des Pannen-PKW waren bereits hinter der Leitplanke in Sicherheit, der LKW-Lenker blieb unverletzt. Die Bilder eignen sich hervorragend zur Ausbildung: Wie würdet ihr zur Menschenrettung im PKW vorgehen?
The Pilsting FD was kind enough to send these dramatic pictures of a truck on the side with a car beneath. Thankfully there were no injuries as the occupants were behind the guard rail at the time of the accident, and the truck driver escaped with no injuries. These is excellent training material, asking the question: how would you go about saving a trapped car driver?

Aus unserer Sicht eine astreine "BigLift"-Lage, die wir so schon mal mit einem Bus (Bergen, Norwegen, 2012) dargestellt haben, siehe unten.
We actually trained with this exact situation using a bus, in Norway 2012, see below.
Kursteilnehmer am BigLift/ BusLift, kennen unsere fünf Phasen:
Erkunden
Sichern
Vorbereiten Heben
Heben
Retten
Bei der Erkundung interessiert uns:
Das zu hebende Gewicht (-> Welches Mittel?)
"Wo will das Ding hin?" (-> In welche Richtungen muss ich sichern?)
Welchen Weg geht die Kraft in den Boden (-> Kritische Strukturen)
…und mit diesem Ablauf entscheiden, wie gesichert und gehoben wird. Viel Spass beim Ausarbeiten!
Our course participants can recall the five phases:
360°
Secure
Prepare Lift
Lift
Rescue
And we are interested in:
The weight (-> What do I lift with?)
Where does it want to go? (-> how do I secure this?)
Which path does the load follow into the ground (-> critical structural element) 
…these tools will help you work out your solution. Enjoy!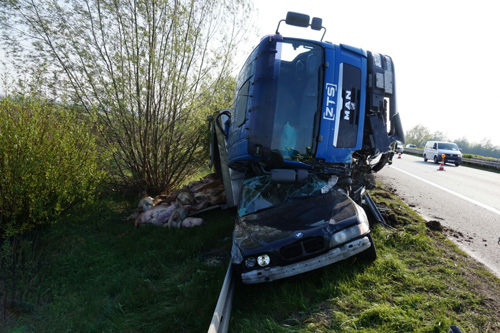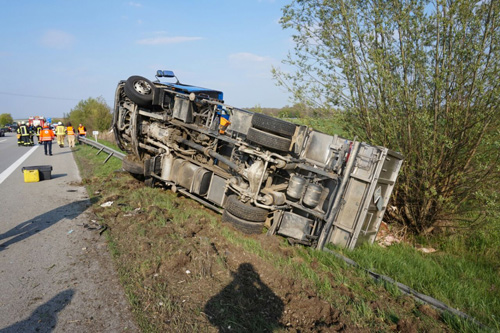 (Ladung: Tierkadaver // Animal cadavres)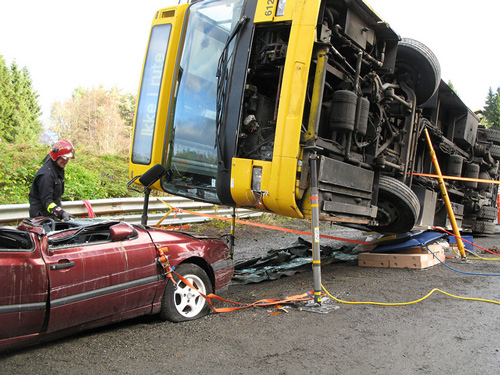 Artikel auf IDOWA, Wochenblatt
Nochmal ausdrücklichen Dank an die Feuerwehr Pilsting!
comments