Erster Paratech Workshop Hoch- und Tiefbauunfälle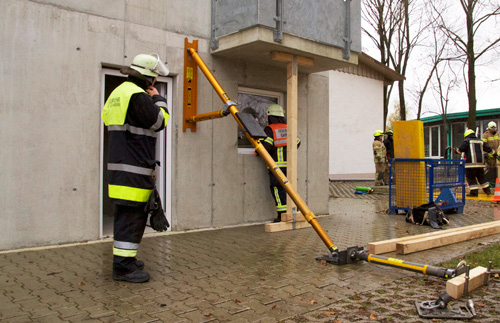 Zwei Wochen nach dem Paratech Workshop VU Schwer in Abensberg haben wir nun auch den Workshop "Hoch- und Tiefbauunfälle" in Freilassing abgeschlossen. 25 Teilnehmer aus Bayern und Österreich, aus Feuerwehr und THW erhielten eine Grundlage in Erstmaßnahmen bei eingestürzten Gruben und beschädigte Gebäude.
Two weeks after our first Heavy Rescue Paratech Workshop,  25 participants were introduced to first response to Trench and Collapse scenarios.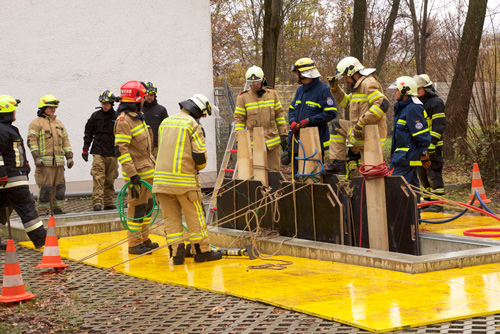 Nach einer kurzen Theorieeinheit waren zwei Gruppen abwechselnd an den jeweiligen Stationen tätig. In der Übungs-Tiefbaugrube wurde das Setzen eines Rettungsverbaus beübt, und im Übungshaus diverse "Figuren" aus Holz (z.B. lotrechte Stütze) und mit Paratech-Stützen.
Following a brief classroom session, two teams alternatively worked to set a rescue shoring system in the practice trench, and worked with timber and Paratech struts in the practice building.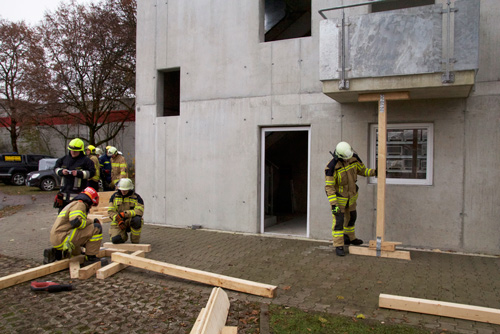 Ziel war, sowohl taktische Grundlagen, als auch den Umgang mit Paratech-Stützen zu vermitteln. Viele der Teilnehmer führen diese als Einsatzmittel mit, oder beabsichtigen die Beschaffung. Hier konnten auch einige Fragen zur Logistik, oder zum Gerät selbst beantwortet werden. Erfreulich natürlich auch, dass hier der Austausch zwischen Paratech-Feuerwehren stattfinden konnte.
Für 2017 sind wieder ähnliche Workshops geplant. Wir sagen den Teilnehmern vielen herzlichen Dank für das Vertrauen und die Zeit!
This workshop had two goals: one, to serve as an introduction into first due tactics at such incident scenes, and second, to practice with Paratech equipment, which some of the participants have on their trucks. Issues such as logistics, or tips and tricks were addressed. We are also pleased that Paratech users could exchange knowledge directly between each other. 
We are planning on similar workshops for 2017 and wish to thank the participants for their trust and their time spent with us!
comments