Erster Paratech-Workshop VU Schwer in Abensberg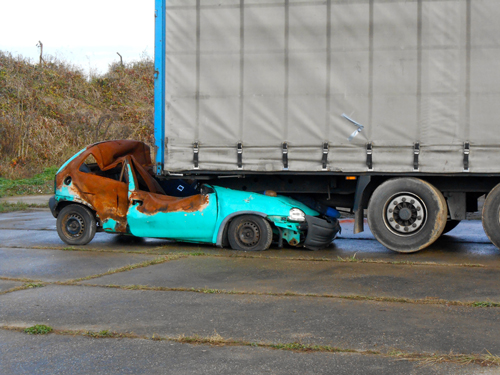 Geschafft! Der erste Paratech-Workshop TH VU Schwer ging gestern auf dem Übungsgelände der Feuerwehr Abensberg über die Bühne. Erstmals konnten wir dabei auch den "typischen" Unterfahrunfall mit dem neuen Auflieger ausprobieren.
Done! We held our first Heavy Rescue Paratech Workshop at the training grounds of the Abensberg Fire Department yesterday, and had a go at the new tractor-trailer prop including a typical underride.
Ziel des sechsstündigen Workshops war einerseits die Anwendung von Paratech-Gerät, andererseits die Vermittlung des 5-Phasen Standardvorgehens beim Sichern und Heben von schweren Fahrzeugen.
Nach der Einweisung der über 20 Teilnehmer in das Gerät wurde zunächst gemeinsam der Standard-Big Lift mit dem (sehr steil stehenden) Anhänger absolviert, anschließend in Gruppen die Stationen "Unterfahrunfall mit Sattelauflieger" sowie "Heben Tankfahrzeug".
The goal of the workshop was to familiarize the 20 participants with Paratech equipment, as well as to learn standard five step tactical approach to lifting heavy vehicles. After introduction to equipment, the group performed an initial "Big lift", followed by evolutions with the new low trailer and tanker lifting.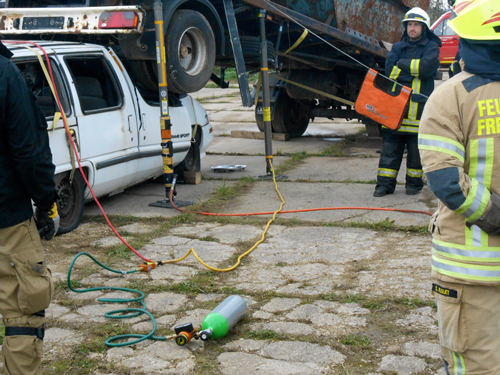 Wir denken, dieses neue Format hat seinen Platz in unserem Angebot, und wird sicher wiederholt werden. In zwei Wochen führen wir das Ganze nochmal durch, allerdings für Hoch- und Tiefbauunfälle in Freilassing.
Bilderstrecke:

comments