Heavy Rescue Challenge 2016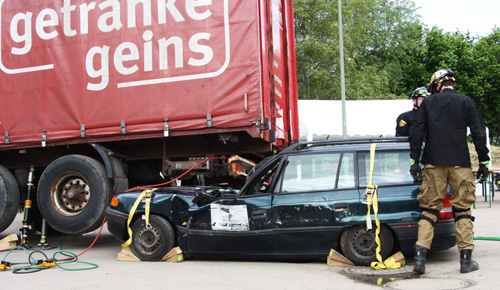 Am 11. und 12. Juni schon was vor? Im Rahmen der Rescue Challenge in Osnabrück führen wir erstmals in Zusammenarbeit mit der VFDU eine HEAVY RESCUE CHALLENGE durch. Das finden wir natürlich deshalb fantastisch, weil "unser" Thema erstmals in Deutschland ganz offiziell auf die ganz große Bühne gehoben wird. Die Inhalte und Modalitäten könnt ihr hier nachlesen. Stichpunkte:
Bis zu acht Teams nehmen an der Challenge Teil
Vorgehen nach einem festgelegten Standard. Die teilnehmenden Teams werden von uns natürlich gecoached (-> unterstützt), insbesondere am Samstag machen wir mit Euch Praxis. Das Gerät wird zur Verfügung gestellt
(Eigentlich) kein Wettkampf, sondern das Voranbringen einer Idee
Aber auch ansonsten sind wir für andere Interessierte vor Ort und stehen Euch gerne für Informationen, Gespräche usw. zur Verfügung. Wir freuen uns sehr auf Juni!
We have the pleasure to announce that this years' VFDU rescue Challenge will also officially include a HEAVY RESCUE CHALLENGE! Up to eight teams can participate and show their skills at securing, lifting and moving vehicles. We will coach your team, in particular on the Saturday. All equipment will be provided. It is not (really) a competition, but rather an effort to promote this idea. We look forward to seeing you in Osnabrück in June! Do contact us for further information, or head over to VFDUs website. 
comments