Heavy Rescue goes Rescue Challenge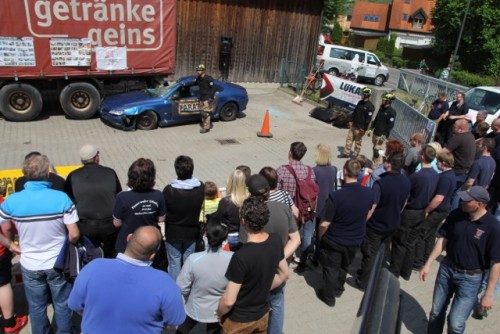 Das hier im Nachgang zur Rescue Challenge 2015, abgehalten in Günding (Dachau/ München). Dank vfdu konnte das HRTG Heavy Rescue Team Germany sich präsentieren: am ersten Tag noch "um die Ecke", am Sonntag dann als Pausenfüller zwischen Ende der Wettkämpfe und Siegerehrung. Tolle Sache, so hatte man einiges an Zuschauern.
Am Wichtigsten jedoch die Tatsache, dass "Big Lift" auch im Rahmen der Unfallrettung vorgestellt werden konnte. Übrigens erstmals im "HRTG-Look" :-)
Wir würden uns wünschen, Heavy Rescue würde auch Rescue Challenge Disziplin werden – das wollen wir, auch mit der vfdu, ganz aktiv angehen. Insofern würden wir uns als "Mentor" anbieten. Wer Lust hat, möge sich melden.
Ansonsten bleibt eine sehr schöne Erinnerung, eine ganz dicke Gratulation nach Günding zur Verteidigung des Meistertitels, und natürlich die Vorfreude auf mehr.
Bilderstrecke auf Flickr, mit dankeschön an Trevor Griffin aus Hampshire für die Bilder!
Thanks to vfdu, our team (Heavy Rescue Team Germany) was able to present itself during the 2015 Rescue Challenge in Günding. Our hope is to be able to introduce this discipline in the championships. Lack of teams right now, but we would like to mentor anyone willing.
comments