vfdu Rescue Challenge 2015 Günding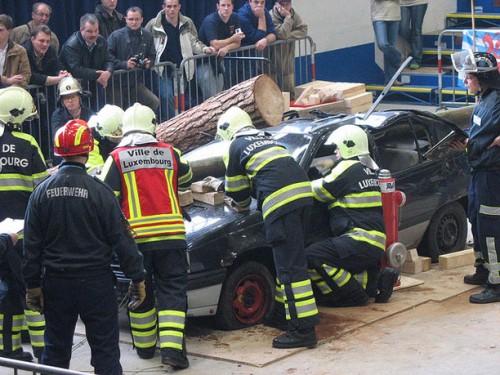 Aufgenommen in Osnabrück, 2006: die damalige Rescue Challenge (Bilderstrecke). Heuer gastiert sie erstmals in Bayern, und zwar vom 15.-17.5. in Günding bei Dachau bei München. 
Leider ist das immer noch kein Massensport, zumindest wenn es den Zuschauerzahlen nach geht. Vielleicht können wir Bayern da ein wenig Bewegung reinkriegen – nehmt Euch die Zeit und schaut Euch das an!
Alleine der Besuch der Veranstaltung lohnt sich: im Gespräch mit den Teams, geschweige denn dem Zuschauen der Wettkämpfe, lässt sich eine Menge Erfahrung und Wissen mit nach Hause nehmen. Wissen, das Euch und Eurer Arbeit zugute kommt.
Wer dann vom Fieber gepackt wird, legt selbst mit einem TRT los – es muss nicht gleich die große Bühne sein, und in der Gemeinschaft lassen sich Tipps und Tricks zur richtigen Vorgehensweise abrufen.
In eigener Sache: Heavy Rescue Team Germany ist auch vertreten, und zwar mit einer Vorführung außerhalb der Wertung. Laut aktuellem Rahmenprogramm am Samstag um 14:00 und Sonntag um 15:00. Auch dort stehen wir Euch gerne Rede und Antwort rund um THL Schwer. Bis dahin!
The next German Rescue Challenge will be held May15-17 in Günding outside Munich. Heavy Rescue Team Germany is pleased to be participating with a demonstration 1400 Saturday and 1500 Sunday. Looking forward to seeing you there!
comments