Polen-Tagebuch (3): PKW unter Kesselwagen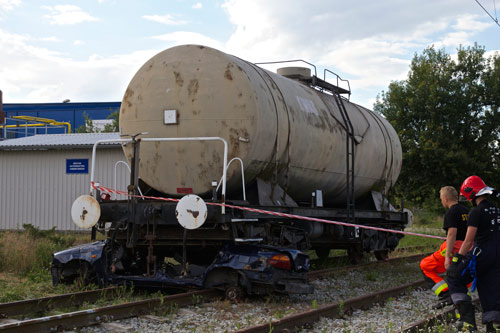 Nun zur letzten THL Schwer-Lage in Poznan: Grill 'n Heavy Rescue. Die von den Freunden aus Mosina vorbereitete Lage, ein PKW tief unter (leerem) Kesselwagen, wurde einsatzmäßig abgearbeitet. Im Anschluß Grillen :-)
The last Heavy Rescue scenario in Poznan, prepared by our Mosina friends: car under (empty) rail car. We went about this "real life". The goal: remove car, have BBQ :-)
Das Leergewicht des Fahrzeugs beträgt zwischen 15 und 20 Tonnen, somit eine Last von bis zu 10 Tonnen auf dem PKW. Abgesehen von der Bewegung des Fahrzeugs, das größte Problem: das Drehgestell musste so gesichert werden, wie vorgefunden, um es beim Heben schnell vom PKW zu bekommen. In anderen Worten: wird das Drehgestell nicht gesichert, wird es sich erstmal ausgleichen, der Wagen muss höher gehoben werden, mehr Zeit und höheres Risiko.
We estimated the weight of the empty railroad car at around 15-20 tons, meaning up to 10 tons load on the passenger car. Besides possible movement, the main issue was to secure the bogie in place meaning it would come off the car sooner.
Zur Sicherung erfolgten drei Maßnahmen gleichzeitig:
Abstützen des Fahrzeugs mittels Rettungsstützen
Sichern gegen Bewegung am hinteren Drehgestell
Sichern des abgehobenen Drehgestells mittels Kette und kleiner Stütze
We took three parallel steps to secure the railroad car:
Insertion of struts to stop vertical movement
Securing the rear bogie against lateral movement
Securing the "flying" bogie with chain and small strut
Anschließend das Vorbereiten des Hebens:
Einsetzen der hydraulischen Stützen
Seitliches Absichern mit je ein 800kg-Greifzug
Luft auf die vorher eingesetzten Stützen
Zugsystem um den PKW herauszuziehen
Next, we prepared the lift:
Insertion of hydraulic struts
Two lateral Tirfor winches
Air on the previously inserted struts
Pulling system for removal of car
Die wirklich schönen Dinge im Leben: wenn das so klappt, wie man es sich vorstellt! Auf dem Bild gut zu sehen, dass das Drehgestell tatsächlich in der gefixten Position blieb. Das Heben an sich war problemlos. Die hydraulischen HFS-Stützen gelten auch als Sicherung, und so konnten die zuerst eingesetzten Stützen entfernt werden, um den PKW herauszuziehen.
Nothing in life is nicer than small victories: when a plan comes together just as imagined. The picture shows well that the bogie did indeed stay in place as intended. The lift itself was easy enough. As the hydraulic HFS struts can be secured, the initial struts were removed and the car pulled out.
Gesamtzeit: 1 Stunde mit einer tollen Mannschaft, Kommunikation auf Englisch, Polnisch und Deutsch!
Total time: 1 hour with a great international team, communication in Polish, English and German!
Fazit: Schön, nicht nur auszubilden, sondern auch Lagen einsatzmäßig mit 1A Mannschaft ohne Unterbrechung abarbeiten zu dürfen. Jedes Mal nimmt man einiges mit, und auch in Polen hat sich die Erfahrungs-Schatzkiste gewaltig gefüllt. Insbesondere die Methode mit den Ketten- bzw. Greifzügen (Methode Mosina), auf die wir beim Bus umgestellt haben, ist aus unserer Sicht eine klasse Rückfallebene.
Summary: its a pleasure not only to train others, but to be able to work on scenarios "for real" without interruption, with an ace team. Each and every time we work, there are new ideas and solutions added to our experience. In this case, the "Mosina Method" saved the day when we worked on the bus, and is thus a definite viable alternative to the "German Lift" as performed here.
comments