Paratech: Neuer Druckminderer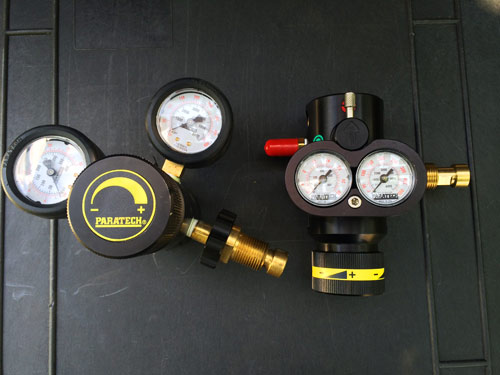 Das hier ist etwas sehr Spezifisches für Hebekissen-Fans! Paratech hat den Druckminderer weiterentwickelt, siehe Bild oben. Die Besonderheiten des bisherigen Druckminderers, insbesondere der Kolben, wurden beibehalten bzw. verbessert. Das Ganze geschehen im Rahmen der Umstellung der Hebekissen auf 10 bar (Bericht folgt).
This one's is very special and of interest to fans of lifting airbags: Paratech have updated their regulator (now named G2). Features of the previous reg – such as the piston – have been kept and improved. This has happened in the course of changing the bags to 10 bar (infos to follow).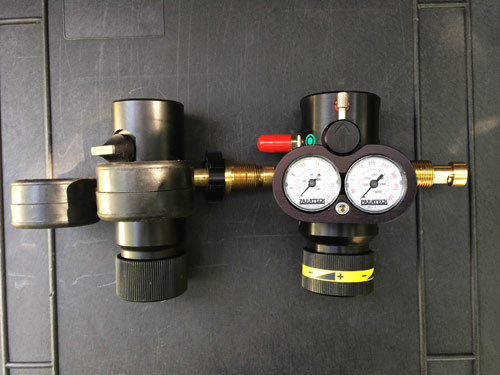 Zunächst ist die Anordnung der Elemente, also der Manometer, Ab- und Abgang, sowie Masterventil jetzt benutzerfreundlicher. Die Manometer sind nun zusammengefasst und mit eigenem Schutz versehen. Das Einstellrad für Druckausgang hat nun auch seitlich eine +/- Anzeige. Der ganz große Hit ist gleichzeitig das unauffälligste: das Masterventil.
The elements (gauges, connections and master valve) have been rearranged and are now more user friendly. The gauges now have a protective encasing, the out pressure regulator wheel has been provided with lateral visual elements. But the biggest – and least obvious – improvement is the master valve.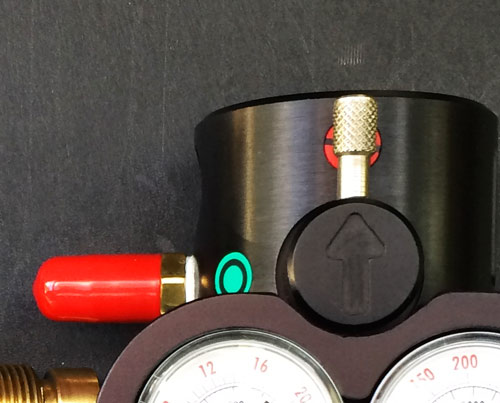 Wer mit uns einen Kurs oder Workshop belegt hat, weiss, wie sehr uns das Masterventil am Herzen liegt. Kurz gefasst: dieses ist ein Sicherheitsmerkmal. Es stellt sicher, dass nicht vor Beginn des Hebevorgangs unerwünscht Luft in das Sytem oder die Kissen geleitet wird. Es kann Patienten- und Retterleben retten. Sowohl der Bediener als auch der Safety (Sicherheitsbeauftragte) stellen sicher, dass das Ventil als Letztes geöffnet wird.
Das neue Ventil lässt sich nun wesentlich leichter bedienen, und  – aus meiner Sicht – das Wichtigste Merkmal ist: man sieht auch auf Entfernung ob das Ding auf oder zu ist.  Es kann nämlich durchaus passieren, dass das Ventil übersehen wird, und wenn keine Luft in das System geleitet wird, unnötige Zeit mit Fehlersuche verbracht wird, bis man auf das geschossene Ventil kommt. Erste Versuche scheinen, diese Vermutung zu bestätigen. Sicher werden wir im Laufe der nächsten Zeit mehr Erfahrungswerte reinbekommen, aber es sieht gut aus :-)
Anyone who has attended one of our courses or workshops knows how important we deem the master valve to be. It is a safety feature. It prevents air to be inserted into the system (or bags) before lifting actually is ready to begin. It can save patients' and rescuers' lives alike. Both Operator and Team Safety are responsible to ensure that the valve is opened last.
The redesigned valve is now much easier to use, and – as I see it – the most important feature: the position is visible at a distance!  Overlooking the shut valve position can result in an unnecessary search for malfunction, and thus loss of time, in particular under stress conditions. 
First trials seem to confirm this improvement, and we'll know more soon. 
comments