[NB Bilderstrecken und Videos in Arbeit]
Nach 2015 (Trench Rescue Technician, 40h) und 2016 (Advanced Trench Rescue Symposium, 32h) hatte ich nun das Vergnügen, am 2017er Symposium als "Alumni" teilzunehmen und das Ausbildungsteam zu unterstützen – somit haben sich auch einmalige Eindrücke auf der Anderen Seite ergeben.
Auch kamen diesmal große und kleine Erkenntnisse heraus. Einige nicht zwingend neu, aber bisher eher untergegangen. Hier sind acht Erkenntnisse aus 2017:
After attending the '15 Tech class and '16 Symposium, I had the pleasure of participating as a deck hand at this years' Symposium. Again, a massive amount of takeaways, some of them details I missed from last time. Here's eight takeaways: Read more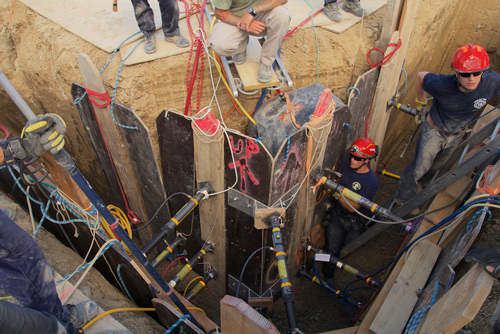 Vom 10. bis zum 14.8.2015 hatte ich das Vergnügen, den Kurs "Trench Rescue Technician" an der Michigan Urban Search and Rescue Foundation teilzunehmen. In einschlägigen (US-)Kreisen gilt dieser Kurs als der intensivste und fortschrittlichste überhaupt. Nachfolgend werde ich versuchen, die Lessons Learned, also die wichtigsten Erkenntnisse, aufzuzeigen – ohne Anspruch auf Vollständigkeit. In näherer Zukunft werde ich auch versuchen, tiefer auf einzelne Aspekte dieser Erkenntnisse einzugehen .
I had the pleasure to participate in the Trench Rescue Technician course, held by the Michigan Urban Search and Rescue Foundation between August 10 and 14 in Howell, Michigan. It is widely considered as the most advanced and demanding Technician course in this field. Following, I will try and list the most important lessons learned. I will try to dive deeper into certain aspects of these lessons in the near future.
[Bilderstrecke in voller Auflösung // All images in full resolution]