Praxistipp Rettungstafeln: Update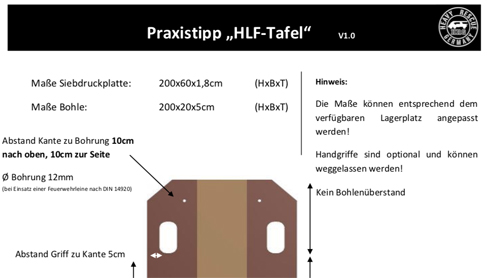 Wir haben die Bauanleitung der Rettungstafel aktualisiert, und auch eine Anleitung für die HLF-Rettungstafeln erstellt. Die Dateien könnt ihr hier herunterladen:
Änderungen bei der Rettungstafel:
Seillänge 7m
Schraubmuster zugefügt
Griffgröße von 15×5 auf 15x7cm geändert
Bohlenüberstand entfernt
Es sind kleine Änderungen. Als Nächstes stehen Versuche mit einer Bohle aus Multiplex an – sollte dies zu einer Änderung der Anleitung führen, können bestehende Tafeln entsprechend umgerüstet werden. Zu Zeitpunkt, und ob die Änderungen tatsächlich vorgeschlagen werden, steht zu diesem Zeitpunkt noch offen.
Unsere HLF Tafel haben wir mit einer Bohle aus 18mm Multiplex versehen, als kompakte Alternative (Infos)
We have changed our recommendation for the Trench Panels, and introduced a smaller panel for first due response ("HLF Tafel) – you can download the guide by clicking on the links above.
comments