Tiefbauunfall: Fast "All in One" Bild
Um ein Haar wäre es perfekt gewesen! In diesem Bild vom Grundlehrgang Tiefbauunfälle in Freilassing ist ein Haufen interessanter Details, es fehlen nur Kleinigkeiten. Die Lage war nicht ohne, nicht zuletzt wegen der Position des Patienten sowie die Beschaffenheit der Grube mit rolligem, nicht-bindigem Boden. Im Einzelnen:
Almost perfect image from the field day during our recent three day Trench Rescue course, only a few items missing. Scenario was fairly complex, due to the position of the patient and the consistency of the (at least type C, if not C60) soil with many layers.
Die Arbeitsbrücke: Alles Holz in 4000mm Standardlänge. Die Bohlen 200×50, drei Stück mit 5×70 bzw 5×100 Torx verbunden ergeben eine wunderbare Arbeitsbrücke. Brückenträger/ Gurthölzer sind 160×160.
Lip bridges, three planks 50x200mm. All timber 4000mm length, bridge trusses 160×160.
Hohlraumverfüllung mit Niederdruck-Hebekissen. ND-Kissen sind nicht "out", sondern sind zum Verfüllen von Hohlräumen. Vier Kissen im Einsatz, davon zwei Stück übereinander, um die Tafel unter der 20°-Marke zu halten.
Void backfill with low pressure bags, altogether four of them in use, two behind this panel to keep it under 20° of incline.
Längsträger als Fixpunkt auf den Auflagern (s. Bild ganz oben) um das Seilzugsystem für das Anheben und Fixieren der schweren Eisenbahnschwelle zu schaffen. Die Schwelle konnte nicht aus der Grube entfernt werden.
An anchor point for the pulley system to lift and secure the heavy railway sleeper, which was too large to remove from the trench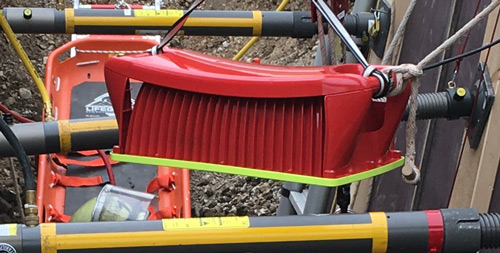 Ebenfalls am Längsträger angebracht, der HypoThermsave Infrarot-Wärmer für den Patienten
Same fixed point for the HypoThermsave infrared heater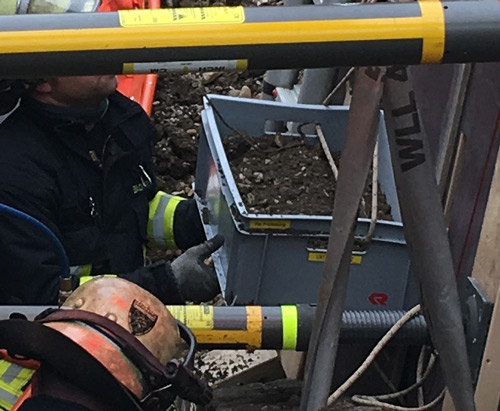 Ausgraben des Patienten, Erdreich wird entfernt
Digging out the patient, soil removal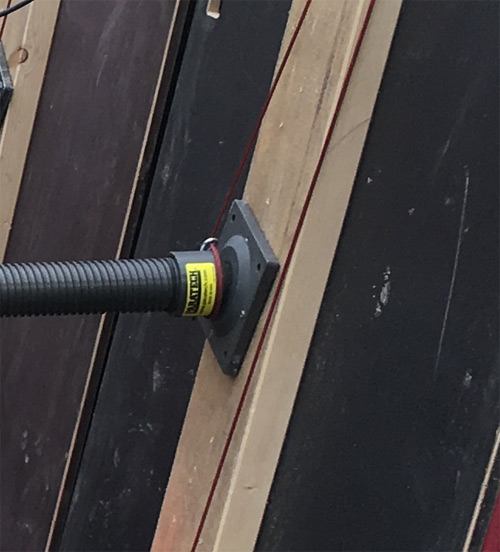 Wo Kanalstreben nicht mehr weiterhelfen: alles außerhalb von 90°, somit 99,99% aller Einstürze bei Tiefbauunfällen. Hier die Swivel Base (Platte mit Gelenk) bis 20°
Paratech swivel base when walls aren't straight, which is probably every single case of a collapsed trench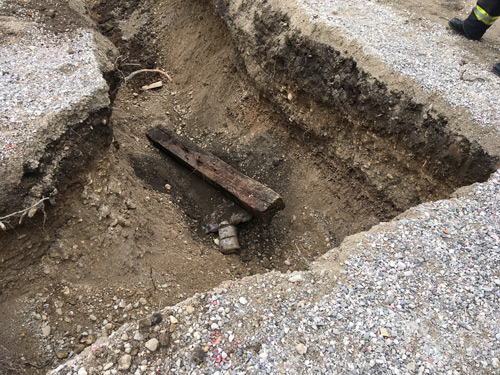 Und das ist die "nackte" Lage – Patient an einer doofen Stelle, doofes Erdreich, doofer Teileinsturz und doofe (und schwere) Schwelle.
The "naked" scenario, not ideal soil, not ideal placement, not ideal partial collapse and not ideal heavy sleeper.
Zwei Ergänzungen: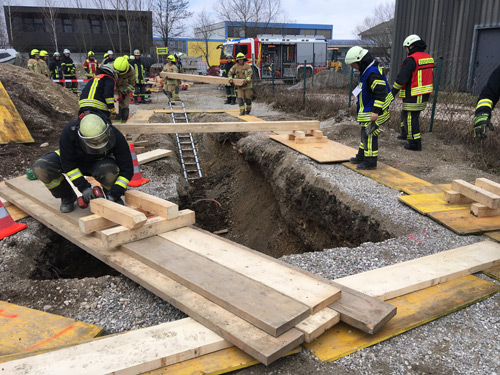 Mit einer extra Brücke konnte das Widerlager für den Brückenträger geschaffen werden
An extra bridge for the crib stack supporting the bridge truss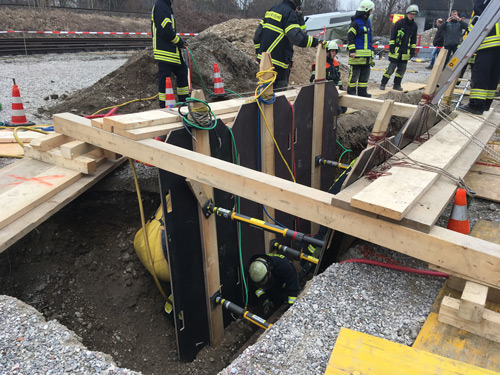 Und anschließend noch die Rettung mittels Zweibein (in der Lage davor) – Rescue via Bipod (previous scenario).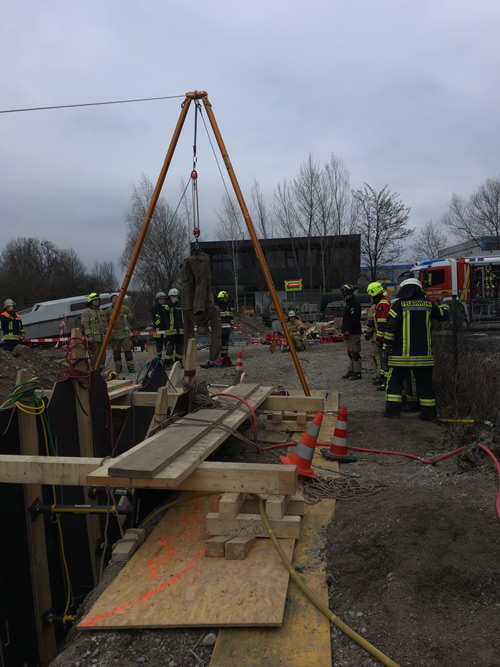 comments