Paratech Strut Driver auf der RettMobil (Video)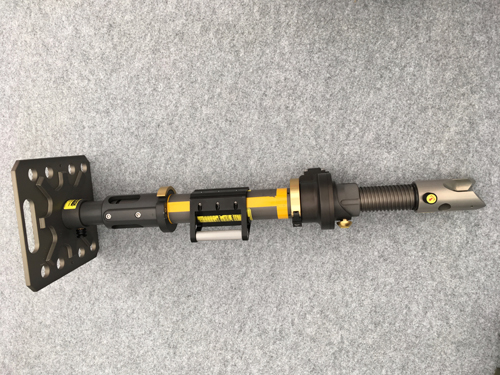 Zur RettMobil 2017 wurde ein Vorserienexemplar des Paratech Strut Driver vorgestellt. Wir verbringen zwar viel Zeit mit dem Erraten des nächsten Produkts aus der Ingenieurhöhle dort, aber das hier hat uns doch überrascht.
A pre-series Paratech Strut Driver was shown at RettMobil 2017. We spend quite some time guessing what will come out next of the engineering cave at the factory, but this one came as a surprise.
Der Strut Driver ist ein Zusatz für AcmeThread / graue Rettungsstützen und ein kleines Wunder der Ingenieurskunst. Er besteht aus Fußteil, der primär dazu dient, ein Durchdrehen der Stütze zu verhindern. Der "Kragen" ist ein mechanischer Antrieb, der die Mutter zum Rotieren bringt. Die Mutter hat ein Innenleben aus "Kunststoff", um die Reibung zu verringern. Eine Kurbel bzw. ein Akkuschrauber mit 19er Steckschlüssel fährt die Stütze aus und ein.
The Strut Driver is an add on to AcmeThread RSS Struts and a small engineering wonder. It comprises the base that stops rotation, a brace with the mechanical drive mechanism, a new collar with "smooth" interior for frictiion reduction and a ratchet.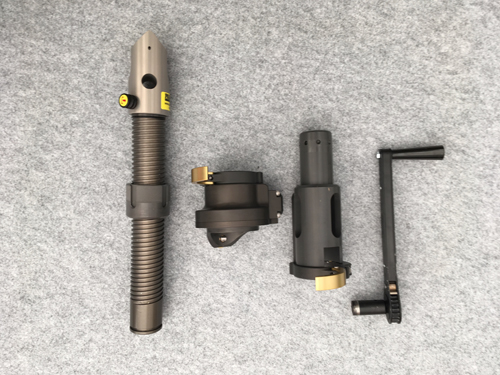 Die Hubkraft beträgt ca. 2,5 Tonnen. Es können alle grauen Rettungsstützen damit ausgestattet werden (mit Ausnahme der 30-38). Taktisch bietet der Strut Driver eine alternative Methode, um ein Gerät mit großer Hubhöhe schnell einzusetzen.
Wie im Video zu sehen, können die Stützen wie gehabt per Hand ausgezogen werden. Die Stützlast bleibt unverändert bei max. 9 Tonnen (4:1) bzw. 36 Tonnen (Bruchlast).
Am ehesten Sinn macht das als Aufrüstung von Fahrzeugen mit Basic/ HLF Kits, bei mitgeführten HFS (Hydraulikstützen)ist das eine weitere Option. Der Strut Driver kann fix montiert werden – hierfür sollten die Stützen dann mit der entsprechenden Mutter nachgerüstet werden.
Heavy Rescue Germany hat sich einige Exemplare gesichert – bei Interesse gerne melden!
Lifting capacity is about 2,5 tons. All grey struts can be fitted with the Strut Driver, and require a modified collar that can be retrofitted. From a tactical perspective, it is an alternative lifting method. As can be seen in the video, the strut can be extended by hand, and the load capacity remains unchanged at a maximum of 9 tons 4:1.
This makes most sense as a retrofit on vehicles that already have struts on board. If a hydraulic HFS strut is on board, this is an alternative lifting possibility.
comments