FTW: Erste Euro Trench Batwings!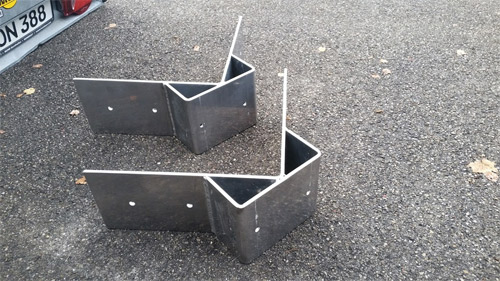 Ist wie vorgezogenes Weihnachten! Das sind die ersten (dokumentierten) Trench Batwings (Corner Thrust Blocks) auf europäischem Boden :-) Das ist nichts anderes als ein Alu-Verbindungsstück für zwei Trench Panels, um eine Ecke zu bilden. Revolutionäre Methode, um die Ecken in einem T- oder L-Graben abzufangen.
It's Christmas come early as I have received the first documented Trench Batwings (aka Corner Thrust Blocks) in Europe, at least I'd like to think so :-) They are a corner piece connecting two Trench panels in a L or T Trench.
Hier sind sie im Einsatz: // Here they are in use:
Die alte, "klassische" Version: // The old, "classic" version: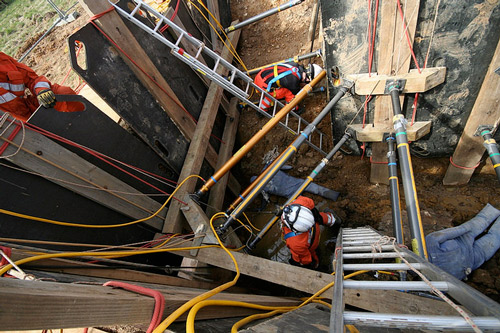 Problematisch, weil Scherkräfte nicht aufgefangen werden // Which is problematic as shear forces are not captured: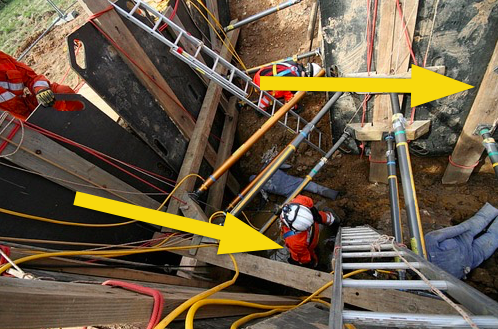 Und auch bei der Druckbeaufschlagung der Stützen zu folgenden Problemen führen kann: // Which can also lead to the following problems when pressurising the struts:
Die Batwings sind nur ein Teil eines Gesamtsystems. Das wird dann bei Gelegenheit vorgestellt. Auf jeden Fall freuen wir uns darauf, die Dinger in der neuen Übungsgrube der Feuerwehr Freilassing zu testen, die auch L und T erlaubt.
The Batwings are but one part of an entire system, we will present this in due time. We look forward to put this to the test in the new trench training facility of the Freilassing Fire Department.