Euro Big Lift: 2 Tage Heavy Rescue
Contact Form Shortcode Error: Form 2 does not exist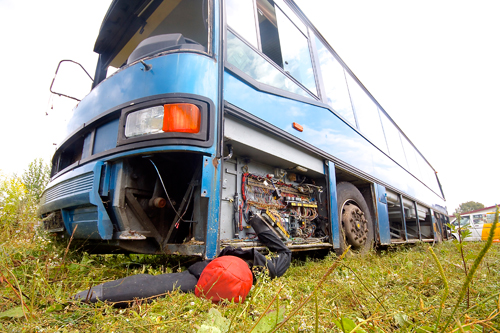 Am 13. und 14. Mai 2013 findet ein "Euro Big Lift" in Abensberg, Bayern, statt. Euro deshalb, weil er auf Deutsch und Englisch gehalten wird. Diese Veranstaltung wird europaweit beworben, und so stehen die Chancen nicht schlecht, auch mit Kameraden jenseits des Tellerrands an einem Workshop teilzunehmen.
We will be holding a Euro Big Lift  in Abensberg, Bavaria (Germany, one hour north of Munich) on May 13 and May 14. The course will be held in English and German.
Erstmals ist dieses auch eine zweitägige Veranstaltung, in der die relevanten Heavy Rescue Module gepackt werden: Hebekissen / LiftCamp, de-compleX, Bus Lift und Big Lift (Unterfahrunfall). In den zwei Tagen hat man die Möglichkeit, ein wirklich gutes handwerkliches Fundament für schnelles und sicheres Heben zu erlangen. Schwerpunkte sind auch das Teamwork sowie die "basics", also alles, was man mit einfachen Mitteln erreichen kann. Anmeldung unten. Bei Fragen freuen wir uns auf eine Kontaktaufnahme.
PDF: Infos auf Deutsch.
During the two days, participants learn the fundamentals of working with heavy loads, in order to perform a safe and quick emergency lift. The course combines all heavy rescue modules: Lifting airbags / LiftCamp, de-compleX, Bus Lift and Big Lift (underride). Focus will also be on teamwork and in particular the basics, working with simple means. You can sign up for this course below. If you require any further information, please contact us anytime.
Download the course brochure as PDF.
comments