Das Heavy Rescue Dreibein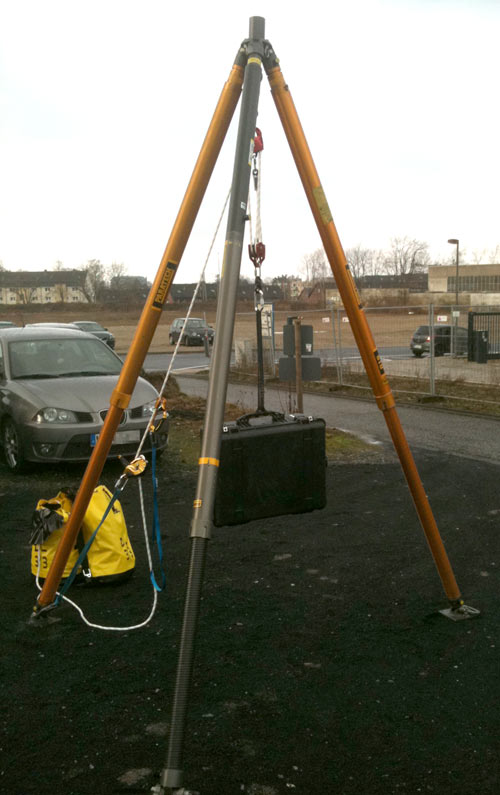 Darf ich vorstellen? Das Heavy Rescue Dreibein, hier in einer "confined Space"-Konfiguration, also zum auf- oder ablassen von Personen mit Kletterseilsystem. Vielleicht von Interesse die technischen Daten:
Mit der längsten "grauen" Stütze plus Verlängerung ist die Höhe knapp drei Meter
Max Last an der Öse: 2,3 Tonnen
Maximale Belastung von oben: 10 Tonnen, somit gut für vertikale Abstützung geeignet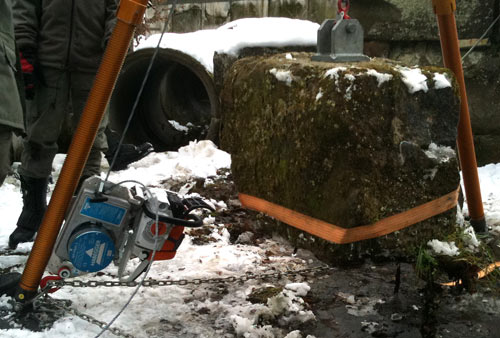 Bei Schwerlasten kann man hier einen Greifzug, oder wie hier zu sehen einen "Moto-Habegger" (nenne ich mal so :) anbringen. Hauptsache das Zugsystem bleibt innerhalb des Tetraeders.
Warum eigentlich Heavy Rescue Dreibein? Weil die Stützen primär zur Stabilisierung verwendet werden, mit dem Dreibeinkopf ganz neue Perspektiven eröffnet.
This tripod will carry 2,3 tons, and will bear 10 tons, which opens entirely new perspectives – I've called it a "Heavy Rescue Tripod" as the struts are usually used in a vehivle stabilisation role. The tripod head is optional.
comments