Erste Tierrettung mit Paratech-Zweibein in Deutschland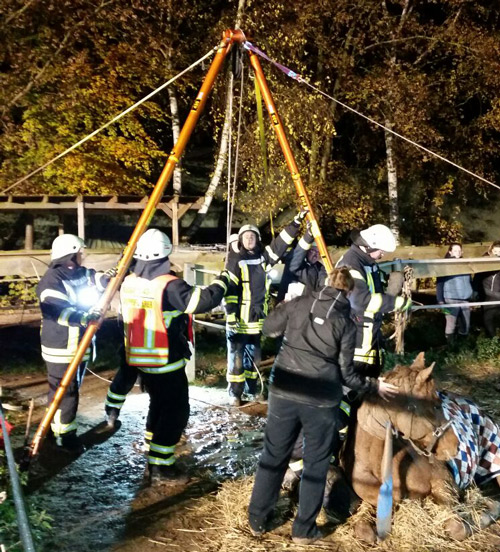 Wir gratulieren der Feuerwehr Rodgau sehr herzlich zur ersten dokumentierten Rettung eines Tieres in Deutschland mittels Paratech-Zweibein!  Die Geschichte ist schnell erzählt: Pferd in Not, für Mobil- oder Ladebordkran unzugängliche Stelle. Das Zweibein mittels Greifzügen + Spanngurten zum Aufrichten des Tieres verwendet. Klasse Arbeit! Heavy Rescue Germany freut sich auch darüber, mit der zweitägigen Ausbildung vor ein Paar Monaten zur Ausbildungsgrundlage beigetragen zu haben. (Fotos: Feuerwehr Rodgau)
We congratulate the Rodgau Fire Department on the first recorded animal rescue with a Paratech bipod in Germany! The story is short and simple: Horse had to be lifted in an unaccessible area for cranes. Heavy Rescue Germany is proud to have contributed in training Rodgau for two days earlier this year.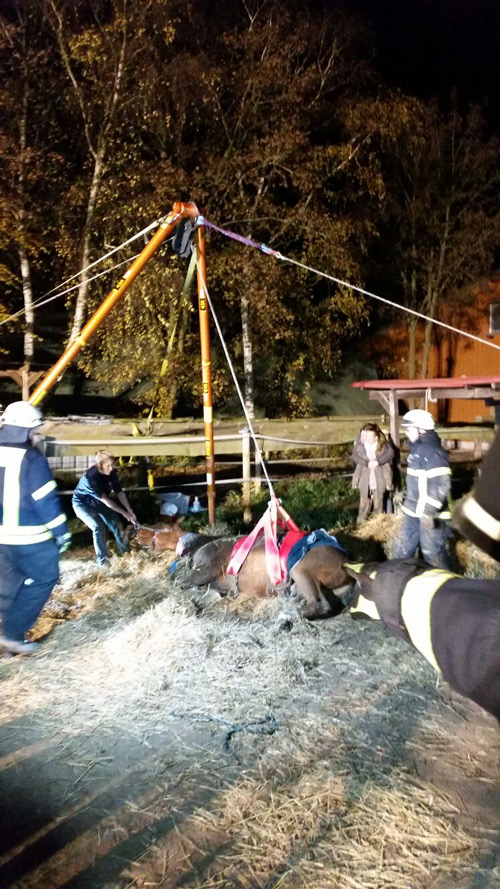 Für Paratech-Nutzer: Heben mit MZ16, Gegenzug mit MZ8, Zugsicherung mit 2 x Spanngurt an den D-Ringen des Zweibein-Kopfes.
Paratech users: Lift with 1,6t griphoist, counterpull with 0,8t griphoist, securing with two ratchet belts in the D rings.
comments